About Emlak Center
Twenty years ago we have established a small property office. Today we are one of the most recognized investment consultancy companies of the property market. Our new goal is to create a worldwide known "global brand" in the Real Estate sector.
We consider Emlak Center as an investment company rather then a property office. We see real estate as an instrument for investment and our aim is to make the clients earn from all their property operations.
Our aim is to make the clients' earnings bigger, to ensure them always a good investment, to gain their trust and to sustain this fiduciary relationship for ever.
Today, with our team of 50 experts, we give services in real estate purchase, sale and rental, corporate sale of housing projects and land development consultancy. We also give pre-sales services such as concept development, expertise and feasibility studies.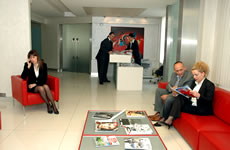 Our main office
Apart from our main office, we have branch offices in Ankara and İstanbul, and sales offices for each of the corporate housing projects.
A Certified Expert
For us, Emlak Center means "quality and trust". This has been affirmed with the ISO 9001:2000 quality certificate that we have achieved in 2008. Our next goal is to transfer our experiences to international context and to become a "global brand" in Real Estate world.